Our influential contest for creative secondary school students will be held for the fourth time this year. The Faculty of Contemporary Arts will reward the most talented secondary school students. This year's topic is Life, and you can find all the information about the application rules, how to cover the topic, and ways to submit your works HERE.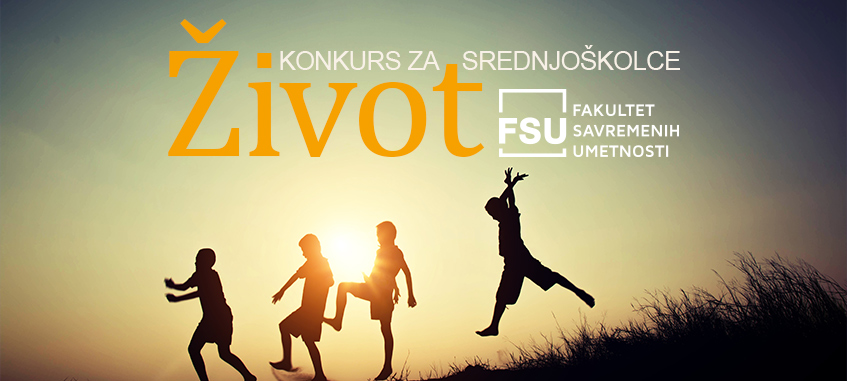 CANDIDATES WILL BE COMPETING IN SIX CATEGORIES:
DRAWING (original work dominated by one's artistic expression and realized in any drawing technique on a two-dimensional surface, or in three-dimensional space – black and white drawings, color drawings, linear and tonal drawing, traditional or digital and combined techniques);
PAINTING (original work dominated by one's artistic expression and realized in any painting technique – tempera painting, aquarelle, acrylic painting, mosaic, collage, street art, combined techniques);
DESIGN (graphic design, fashion design, industrial design, interior design, packaging design, illustrations, architectural design – traditional or digital drawings);
PHOTOGRAPHY (all types of art photography, monochromatic or color photography, analog or digital photography, photo collages, photo montages, etc.);
MULTIMEDIA (videos, clips, gifs, recorded performances, installations, interactive/conceptual/digital art, land art, body art, kinetic art);
CREATIVE WRITING (poetry, prose – short story, essay, hybrid genres. Note: One student can submit a maximum of three poems or stories; literary clubs can send collections of poetry or prose with a mandatory mentor's interpretation of the student works; entries are to be submitted in electronic form; Times New Roman, font 12).

All secondary school students in Serbian can apply for the contest, and one student can submit a maximum of three entries (either in the same category, or in different categories).
THE KEY TO UNDERSTANDING THE CONTEST TOPIC:
LOOK FOR INSPIRATION IN YOUR DAILY LIFE!
Life, body, plot.
Life as self-motion.
Think about it.
Man is born and doesn't live alone – he/she is born as part of a certain nation, religion or historical period, in a specific geographic location. Life often becomes a frenzied obsession. Man is often unable to see another person from himself, or the nation from which he originated, and the nation in which he has found himself. He often realizes that life is something more than the next excitement and fleeting pleasure only when he reaches old age.
We are asking you: How should one live?
"Every one of us is undoubtedly responsible for all men and everything on earth" says Father Zosima from Dostoevsky's novel, which means that everyone is responsible for everything and everyone. To whom are we accountable? To God, if we believe in him, to family if we have one, to the universe, or to our own people?

We are asking you:

What is life?
and
Where is life?

Life is a "memento mori" – a reminder of the inevitability of death.

Life is also the mythical phoenix bird that sacrifices itself to be born again.

Life is also the search for the golden fleece, or the golden apple.

Literature recognizes it as Gilgamesh's search for the flower of immortality: as the desire for the unattainable, for immortality, as the desire to find meaning.

To achieve that goal, one needs to overcome the dark side of nature. They need heroism and mysticism. Belief in miracles.

Throughout their life, people search for the original happiness, for love, and for paradise lost.

Life is a search for the lost Word, because the search for something that is lost is always a search for life, immortality, spiritual value, enlightenment.

Life is a miracle.

Life is creation. Creation of a new life.

To create means to come into preternatural contact with the Logos.
A writing desk, paint palette, the lens of your phone or your camera, the sound of your instrument may just be the altar of the greatest mystery where life awaits you.

Maybe you will find your own Goya, and sit across him like Andrić used to sit in the garden of one of his cafes, in the suburbs of one of his towns, and maybe you will think about palaces and temples, their magnificence and beauty, their simplicity and their poverty.

Tell us:

What are the faces of life: radiance and/or simplicity?
It is impossible, says Andrić, to grasp them both at the same time, instead, man must always lose the sight of one while looking at the other. He also says that those who are allowed to see both find it hard to forget one while looking at the other.
What kind of life does modern man lead?
Does life seem a planetary confusion and global chaos to you?
Harmony or confusion, or maybe strained numbness?
Does thinking about life make you happy, sad, or afraid?
Is this your old/new corona-life? Life with a mask under a mask?
Does life make sense, and does it make sense to ask questions about the purpose (of life)?
Ask it. Catch the thought, find the purpose.
Or is that thought eluding you?
Does your dream of life end in disappointment (of the awakened), or in a song (of awakening)?
Does life have its own symbolism, its own iconography?
Think about it.
Do you lead a life of art, life as art, or art as life? Do you negotiate with life? Are you lonely (in life)?
Is life for you – life as health, life as money, life as a game? Or something entirely new and amazing?
Think about it…

And send us your works about LIFE.

Assistant Professor Dušica M. Filipović, PhD
It is only important to be original, unique, your own person, and to show us all your creativity.
THE CONTEST ENDS ON MAY 15, 2021
All those who want to participate in the contest need to fill in the application before April 15. All entries should be submitted as originals (and sent to: FCA, Svetozara Miletića 12, 11000 Belgrade), and in electronic form to the following email address: konkurszakreativce@fsu.edu.rs no later than May 15, 2021.
Each contestant can submit a maximum of three entries to the contest. Each entry should be signed. The following information should be written on the back of each entry: name and surname of the contestant, name and surname of the mentor if your entry was supervised by a mentor, name of your school and year of study, your phone number and phone number of your mentor if you have one, and finally, your email address.
Photographs of your entries and digital entries should be saved in 300 dpi, JPG format, 15 cm width. Entries submitted for the Creative Writing category should be sent in Word format.
All entries must be signed as follows: name and surname – name of school – name of entry – category (e.g. PETAR PETROVIĆ – DESIGN SCHOOL – SUMMER – PHOTOGRAPHY). Digital entries should be printed in A4 format, as well as photographs, and videos should be submitted via WeTransfer.
Find out more about the application rules and what entries should look like HERE.
Our expert jury will examine all the submitted entries and shortlist the best by June 1, 2021. You can download the application form HERE.
REWARD FOR ALL PARTICIPANTS – GROUP EXHIBITION IN THE GALLERY OF THE FACULTY OF CONTEMPORARY ARTS
We have provided valuable prizes for the best contestants:
One-year tuition for FCA – winner of the contest;
Tablet and a book – for winners of each category;
Free Photoshop course – for three top-ranking contestants in each category.
The reward for all our creative secondary school students will be a group exhibition of all submitted works in the gallery of the Faculty of Contemporary Arts. We will also present the awards to the winners on the same day.
Apply for the influential contest for creative secondary school students, and let everyone see the artist in you!