WE REWARD THE BEST
FCA FINANCIAL SUPPORT PROGRAM FOR FUTURE REVOLUTIONARY ARTISTS
You have great ideas for movie projects? You know how to revamp a classical theater piece with an innovative approach to direction? You're dreaming of becoming an actor? You have an eye for detail and internal design? Or perhaps you prefer to express yourself using a painter's brush and canvas, a computer or drawing tablet?
If anything above is your passion, and your dream is to showcase your creativity to the world and establish yourself in the world of acting, directing, painting, media production, interior or graphic design, choose a Faculty of Contemporary Arts program with a significant tuition fee reduction thanks to the school's financial support program.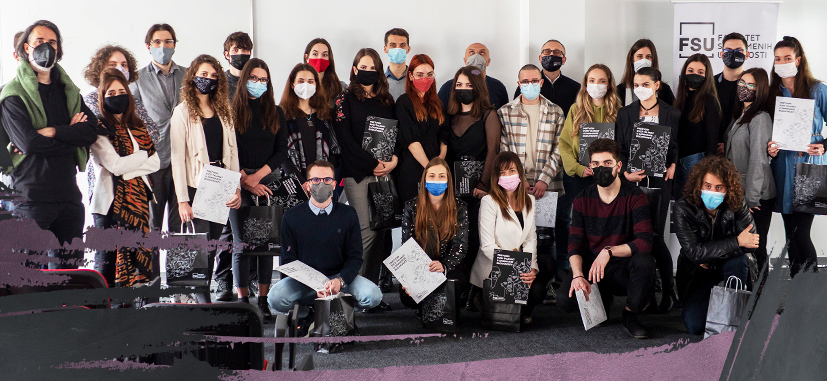 The financial support program for the best FCA students was launched with the aim of encouraging all undergraduate students to work hard and invest effort in order to achieve the best possible results, engage in all school activities, and join us in becoming a large family achieving top results.
The criterion for the reduced tuition fee is not just academic success. The jury comprising FCA professors will also take into account the students' participation and engagement in extracurricular activities and their respective academic fields.
FCA's message to the students was – hard work pays off. We hope that the competition will be even tougher next year and that the jury will once again have a difficult task.
FOR THOSE DESTINED TO LEAVE THEIR MARK IN THE ARTS
Society without culture and art is no longer a society. This is why talented and innovative individuals must get the opportunity to express their ideas and skills without any obstacles, including financial ones.
Now all talented and imaginative young artists can apply for FCA's financial support program.
The world is expecting your contribution to culture! Study, acquire interdisciplinary knowledge and develop your talents at FSU with reduced tuition fees.
WHO IS ELIGIBLE?
The financial support program is open for all undergraduate students attending Years 2, 3, and 4 in any FCA program, who believe that they have a good portfolio and that their ideas will win the hearts of art aficionados. Apply if you have:
organized exhibitions,
received awards in design, painting, acting or production,
played important roles in the theater or on screen,
participated in creating important film/theater/TV productions,
great artistic potential.
REQUIREMENTS
In order to apply for the tuition fee reduction program, in addition to having an active student status the students must:
be enrolled into Year 2/3/4 without repeating a year or having exams from previous years;
have a minimum 8.5 average grade in the previous academic year;
not have any school debts on the day of submitting the application.
APPLICATION PROCEDURE
Once FCA has published the tuition fee reduction open call, the candidates shall submit their applications with the necessary documentation.
The decision on awarding reduced tuition fees is made by the Academic Council of the faculty at the proposal of the department within 30 days following the application submission deadline, whereby each department shall submit proposals for their study programs within 15 days following the application submission deadline.
Should you have any questions regarding the application procedure, please write to: office@fsu.edu.rs.