A unique present for FCA students: 100 free hours at coworking hubs
Fantastic news for everyone who is finishing their studies at the Faculty of Contemporary Arts: the possibility of getting 100 free hours at coworking hubs upon completion of their studies has opened, thanks to Faculty of Contemporary Arts' cooperation with Nova Iskra and other IT hubs.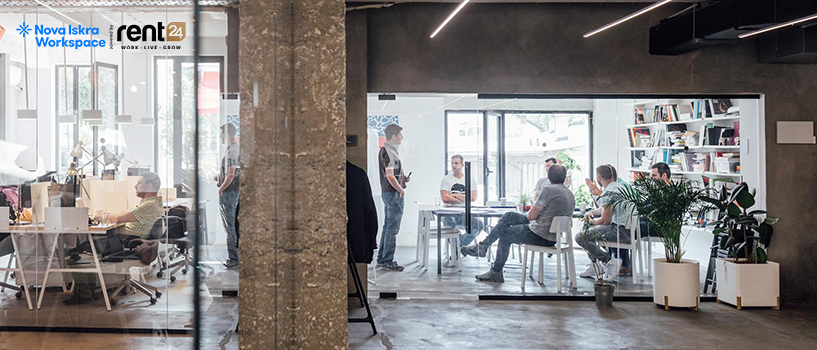 Put this great present to good use and seize this opportunity to connect with people who share similar interests and business endeavors, work and create in an inspiring environment and choose a great way to start a career in art.
What do you get by visiting coworking hubs?
This concept of large workspaces that bring together people with similar interests and business projects is gaining huge popularity both globally and locally. The main reason for this demand are the immense possibilities this concept opens to those who create, design and make things in this kind of environment.
Extensive research has shown that hubs are conducive to finding a job, initiating startups, as well as freelance work. Coworking hubs are modern spaces with relevant equipment that provide the following to their users:
access to a network of mentors and professionals;
state-of-the-art office space;
high-quality equipment;
fast fiber internet;
maintenance and technical support;
access to gaming zone and lounge area;
fully equipped kitchens;
covered electricity, heating, water and other utilities expenses.
What do artist-oriented coworking hubs contain?
Creative and positive work environment
When your surroundings are lively and positive, it is much easier to find inspiration for your work. It is important that the coworking hub where you work is characterized by good vibes, contemporary design, fine architecture or good location. In short, something that inspires you.
Inspiring work community
Community is perhaps the most important aspect of a hub that hosts creatives and artists. If it is inspiring, it will be easier to find common ground with colleagues, perhaps come up with new projects on which you can join forces. Also, you are getting someone who is competent to give your work a critical assessment, and expects the same in return.
Features that enhance creativity
Coworking hubs for creative people should offer features that will satisfy your artistic tastes, along with providing comfortable conditions for work, including sufficient space for the realization of your projects, a lot of shelves, as well as plenty of natural light.
Galleries or exhibition spaces
As a special feature, some work communities that aim to attract artists offer exhibition space, where they can present their work to help it reach the widest possible audience. These features are sometimes actual, fully equipped modern galleries.
What else do you get by studying at FCA?
Upon completion of their studies, our alumni have the possibility of setting out as interns at some of the most prestigious companies in the creative industry. The Center for Career Development (CCD) maintains different sorts of cooperation with many successful companies in the region and many of our students have already experienced this kind of internship and thereby set out on the journey of a career in the creative industry.
Join them.
Thanks to the cooperation with work communities of this kind, people from FCA will have an excellent opportunity to do a lot for their career in art, initiate their own projects or be part of exciting cooperations and connect with people who work in the same or similar field.
Here's what it's like to be working at a coworking hub: