The third edition of Computer Graphics & Arts Conference Belgrade (CGA Belgrade), which takes place this year, places special emphasis on education and young talent. Attendees are invited to visit workshops specially designed to meet students' interests.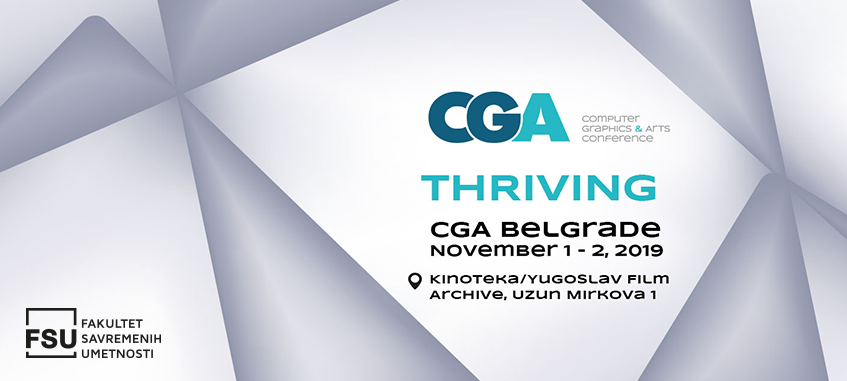 A segment of the conference is dedicated to portfolios and all those who are interested can learn how to create a perfect one. The events are free and registration is limited.
If you are experienced and have decided on your industry of choice, visit this page and register for a workshop or masterclass.
All workshops and masterclasses are free of charge
Are you interested in sound design in video games? Register for Shane Berry's workshop entitled Designing Sound for a Mobile Game Character. Branko Sujić, Mirko Stojković and Pavle Dinulović from the Faculty of Dramatic Arts' Interactive Arts Laboratory will introduce you to virtual reality. However, if VR is not your choice and you prefer the art and science of teaching VFX, register for the masterclass given by Laurence Cymet from Centennial College.
In addition, Branislav Pavlović will teach you how to create weapons in AAA games, and Michael B. Nielsen will guide you through the process of creating smoke and fire in computer graphics. But this is not all – Klaudija Čermak, Oscar winner for her work in the film Troy and digital compositor for the series Black Mirror, will enable you to enhance your Nuke skills. This is followed by Bogdana Amidžić's masterclass on solving problems in VFX.
Learn how to create the perfect portfolio
First impressions are as important as the insider tricks and tips that can help you when faced with recruiters. This is why this year's conference also welcomes Alwyn Hunt (The Rookies), Branislav Pavlović (Ubisoft), Carsten Biernat (Nordeus), Dalibor Dejanović from Centennial College, Maksim Ljubenković from Crater Studio and the 3Lateral team, who will prepare you for the industry. On this page, you can get a portfolio review.
The 3Lateral team has something else in store. During the two-day program, you will be able to experience a job interview simulation and learn how to present yourself in the best light.
CGA Belgrade 2019 takes place on November 1 and 2 under the slogan 'Thriving', at the Yugoslav Film Archive, 1 Uzun Mirkova Street.
Join us in these workshops and masterclasses; registration is limited and attendance is free of charge.