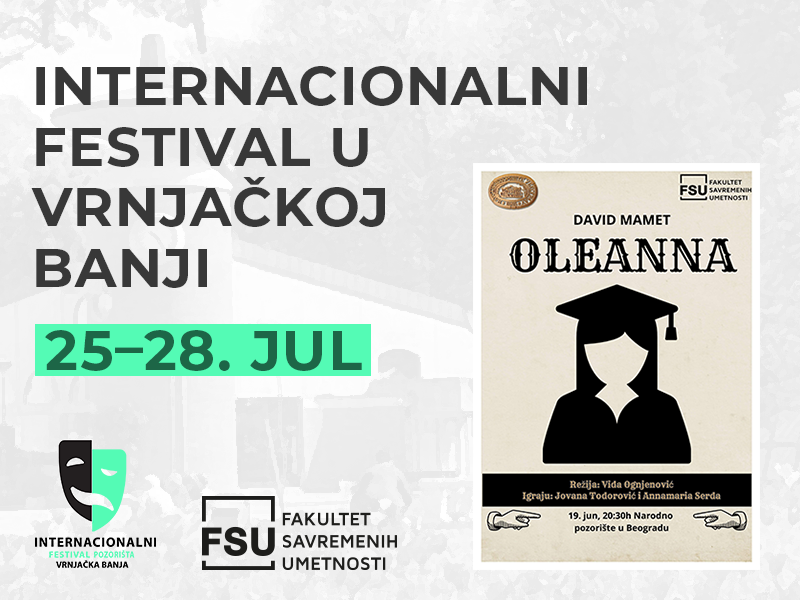 Come to art summer in Vrnjačka Banja: Play, exhibition and concert, July 24–28
This year, culture is summering in Vrnjačka Banja! Mark the last days of July in your calendar as the right days for culture, and bear in mind that the Faculty of Contemporary Arts will be a great part of this summer in the arts.
Anyone spending the end of the month in this popular Serbian resort can enjoy quality theater plays, exhibitions and music.
See "Oleanna" on Thursday, July 25, starting at 9 PM
Second-year students of FCA's acting master's program Jovana Todorović and Annamarija Serđa will take the stage in Vrnjačka Banja at the International Festival of Theater, which will be held from July 25 through July 28 in the popular Serbian resort.
On Thursday, July 25, acting students from ITS will perform their exam play "Oleanna", directed by their mentor, professor Vida Ognjenović.
In addition to this play, during the four festival days the audience can see three more: "This Is Where the Title of Drama about Ante is Written", performed by Komuna Beograd, "A Matter of Choice… Why I Listen to Marčelo" by Teleport Theater Paraćin, and Reflektor Theater's "Macho Men". The International Festival of Theater emphasizes young and extraordinarily gifted Serbian artists, while also bringing to the forefront the best achievements of Serbia's established theater and culture scene. The festival also serves to promote Serbian culture and art in the region and across the world, while at the same time introducing the Serbian public to exquisite international works in arts and culture.
Mr Saša Filipović, dean of FCA, to open solo exhibition in Vrnjačka Banja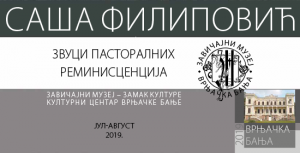 Mr Saša Filipović, FCA's dean and painting professor, will have a solo show in Vrnjačka Banja entitled "The Sounds of Pastoral Reminiscences". The exhibition will open on Wednesday, July 24, at 8 PM at the Local Heritage Museum – Culture Castle, a part of the Vrnjačka Banja Cultural Center, and remain open throughout August.
The exhibited works deal with two significant interpretations of reality – the descriptive mapping of natural space, and indirect reflection.
Professor Uroš Dojčinović to play at the music festival
The exhibition serves as an accompaniment to the 14th International Classical Music Festival in Vrnjačka Banja. The festival will include a concert entitled "The Greats of Spanish Music Quill", featuring FCA's professor Uroš Dojčinović on the guitar, and soprano singing by Tanja Andrijić.
Come to Vrnjačka Banja and enjoy the summer's most comprehensive art and culture program.
See you!