We invite you to attend the opening of the exhibition "Sonars", the author of which is professor Đorđe Stanojević, head of the Visual Arts Department at FCA.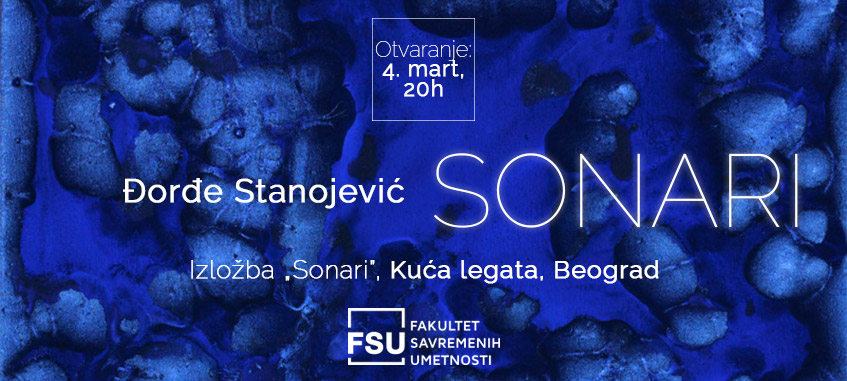 The opening is scheduled for Wednesday, March 4 at 8 PM at the Heritage House in Belgrade (46 Kneza Mihaila Street). The collection, comprising large-format paintings, is followed by professional guidance and a series of discussions on a topic which connects environmentalism and art.
Art as a medium in the torn relationship between people and nature
Đorđe Stanojević explores the nature–art–people relationship in which art takes the role of a medium in the torn relationship between people and nature. The process of creating a work of art is associated and equated with natural processes, thus creating a completely new cultural model.
The SONARS collection, created between 2015 and 2019, is a compendium of experiments the artist conducted outdoors. After four years of work away from the urban environment, using natural materials and the influence of great natural forces, Stanojević created a series of works reduced in color and based primarily on monitoring the process in which a work of art is created. In this context, natural processes create artistic processes.
The title SONARS implies plunging into the sensitive structures of the world, where a work of art is not perceived as an esthetic object but as a means of learning. From a dialog with nature emerges the content of the piece. We acquire the knowledge we lost by living in urban environments. It is hidden in the depths of nature one has to be part of in order to reach it.
Come to the Heritage House on March 4 and enjoy the unique blend of nature and art.