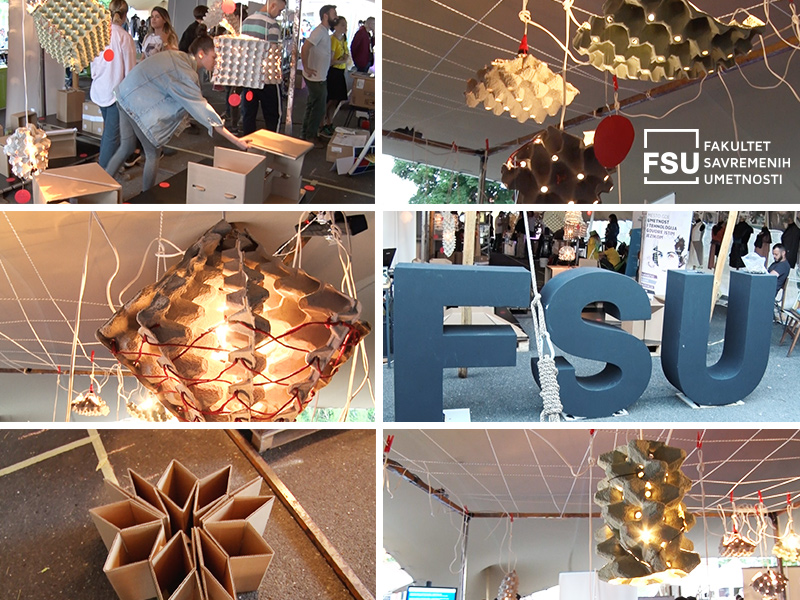 INTERIOR DESIGN STUDENTS SHOWCASE THEIR WORK AT EXHIBITION "TRASH" AT MIXER FESTIVAL
Faculty of Contemporary Arts was a part of this year's Mixer Festival, which took place at lower Dorćol from May 24 to May 26. The festival's themes were circular economy and recycling; accordingly, the second year students of interior design created a show called "Trash" with their professor Vesna Pejović.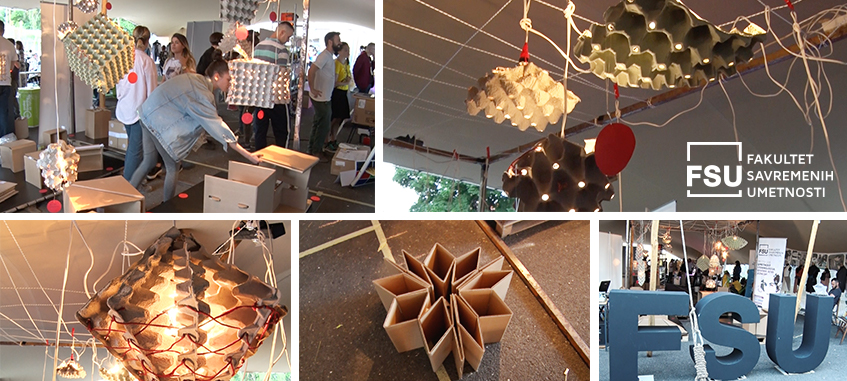 They used eco-materials to create prototypes of children's furniture and light fixtures. These objects constitute an integral part of their work required in courses Furniture Design and Lighting Design during the second year of studies.
FCA'S STAND AMONG THE MOST CROWDED AT THE FESTIVAL
The exhibited objects were presented as a whole, but each of them stands out in its own right, as well – due to each student's palpable individual approach. The objects are connected by 2D and 3D transformations and the recycling materials that were used.
"The works mostly comprise pieces of children's furniture, a stable seat for a child that doubles as a toy. The other segment showcases light fixtures made out of egg cartons. The students had to invest a lot of effort into rendering the structure sufficiently hollow so that it does not catch on fire, because I requested that an ordinary bulb be used. They got a great opportunity to have their prototypes tested by the end users – the children; that was an interesting moment for them, seeing someone use what they have made," said professor Vesna Pejović.
FCA's exhibition left a big impression on all the visitors, mainly due to the great dedication of the authors themselves, who were happy to explain how they had reached the end result to everyone. This was a great opportunity for them to showcase their creativity, gain valuable experience and have their prototypes actually tested by the users themselves.
See what it was like at FCA's stand at the Mixer Festival: