The Faculty of Contemporary Arts is continuing its good practice of finding distinguished and renowned professionals in their chosen fields to teach and mentor our students. The new class of actors, the class of 2020/21, will learn all the secrets of their trade from the celebrated actress Ljiljana Blagojević.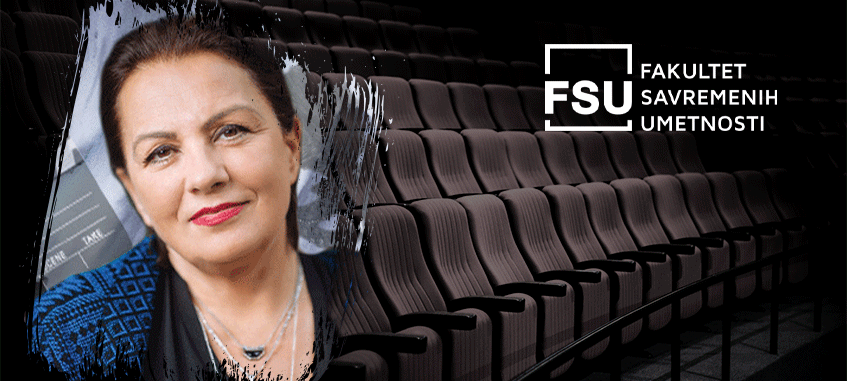 The Serbian acting diva has already had experience in teaching younger thespians, and this time, she will form and co-chair a new class of actors at the Faculty of Contemporary Arts with her colleague, actor Slobodan Beštić.
Remarkable career in acting
Ljiljana Blagojević graduated with honors from the Faculty of Dramatic Arts, in the class of Professor Milenko Maričić. She has enjoyed equal success in theater, film and television. Some of her roles have since become classics, and her professional efforts have been crowned with numerous acting accolades.
In her third year of studies, she was given the chance to appear in the movie Boško Buha, and her first leading role occurred in 1981, in Emir Kusturica's famous film Sjećaš li se Doli Bel. Simultaneously with the career in film, she built her career in theater, at first as a freelance artist, only to become a principal drama artist of the National Theater in Belgrade in 1996.
She is married to the famous playwright and author, Siniša Kovačević, and together they have a daughter, actress Kalina Kovačević. Ljiljana and her husband co-founded the production company AVE SERBIA which produced movies Sinovci (Sons of My Brothers) and Maša, as well as the TV show Gorki plodovi (Bitter Fruit).
She has starred in over 50 movies for which she has been awarded the most prestigious acting awards. Some of her most famous films include: Miris dunja (The Smell of Quinces), Svečana obaveza (Solemn Oath), Lakši slučaj smrti (A Milder Case of Death), Sinovci (Sons of My Brothers) and Zavet (Promise Me This).
She made her television debut in 1982, in the TV show Doktorka na selu (Country Doctor). Her popularity reached its peak with the role of Queen Draga Mašin in the TV show Kraj dinastije Obrenović (The End of Obrenović Dynasty). After this project, she withdrew from television for a while until the show Gorki plodovi (Bitter Fruit) which she co-produced. Her TV popularity was restored with the shows Miris kiše na Balkanu (The Scent of Rain in the Balkans), and Budva na pjenu od mora.
Over 25 prestigious acting awards
Ljiljana Blagojević is a proud owner of over 25 acting awards, most important of which include: Zlatni beočug, Bora Stanković Award, Zlatni vitez for the best female role at the 4th Moscow International Theater Festival, Zlatna značka for her contribution to culture awarded by the Ministry of the Diaspora and Cultural-Educational Community, Žanka Stokić or Velika Žanka Award awarded to the most distinguished actresses of the Serbian theater, Sergej Bondarčuk Award for exceptional contribution to world cinema and many others.
Drama students at FCA will have the opportunity to learn their craft from the very best, and Ljiljana Blagojević will strive to pass on her vast knowledge and experience on her students.
If you want to learn from the best, there is still time to become part of the new class 2020/21. There are still a few vacancies left in the new acting class. Apply here >>