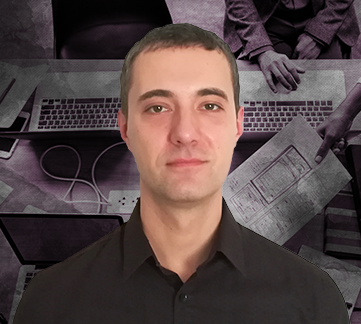 Narrow scientific/artistic field
New media
Subjects
New Media Theory 1 and 2
Dragan Ćalović was born in 1976. He holds two university diplomas: in painting (1998) and Arabian Language and Literature (2006); his postgraduate studies of Art and Media Theory at Interdisciplinary Studies at the University of Arts in Belgrade led to a doctorate acquired in 2018. That same year, he became a full professor of Theory and Philosophy of Art.
He is a member of the Croatian Philosophical Society and the Serbian Society for Aesthetics, where he has served as a member of the Steering Committee and coordinator of the section for Philosophy of Media. He is also one of the originators and organizers of the Philosophy of Media congress. He has participated in several Erasmus+ mobility projects, two scientific research projects sponsored by the Ministry of Science of the Republic of Serbia, as well as several projects from the cultural realm.
He has written three monographs, a textbook and a number of scientific articles in the fields of art theory, media theory and cultural studies. He has participated in over sixty scientific conferences, as well as a great number of discussion panels, public lectures and presentations of scientific and literary publications.
You can read professor Ćalović's detailed biography HERE.