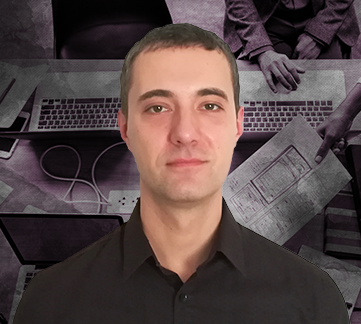 Narrow scientific/artistic field
New media
Subjects
New Media Theory 1 and 2
Dragan Ćalović was born in 1976. He graduated from the Department of Painting in 1998, and the Department of Arabic Language, Literature and Culture in 2006. He obtained his Master's degree at the Department of Theory of Art and Media (interdisciplinary studies) at the University of Arts in Belgrade in 2005, while he earned his PhD on the subject of art science at the same department in 2008.
He works as full professor at the Faculty of Contemporary Arts, where he teaches subjects in the area of theory of art, new media theory, and design theory.
Dragan Ćalović is a member of Serbian Association for Aesthetics, International Association for Aesthetics, Croatian Philosophical Society and Matica Srpska. He took part in two scientific projects launched by the Ministry of Education, Science and Technological Development of the Republic of Serbia, and he currently works on a scientific project organized by the Polish National Agency for Academic Exchange as a member of Serbian scientific research team.
Mr. Ćalović held more than 15 guest lectures, workshops and seminars at universities in Poland, Hungary, Romania, Slovenia, Croatia and Turkey. He is one of the founders and organizers of the international scientific conference called Philosophy of Media, which has been supported by the Ministry of Education, Science and Technological Development of the Republic of Serbia, the Ministry of Science and Education of the Republic of Croatia, and the Presidency of the Republic of Croatia for more than a decade. He also took part in many round table discussions, public discussions and lectures, more than 60 science conferences, and he also participated in and organized a dozen of cultural projects.
Dragan Ćalović is the author of four (and a co-author of one) science monographs, as well as over a hundred papers published in national and international scientific publications. Subjects of his research are contemporary theory of art and media, contemporary artistic practice, as well as Islamic and Japanese art.