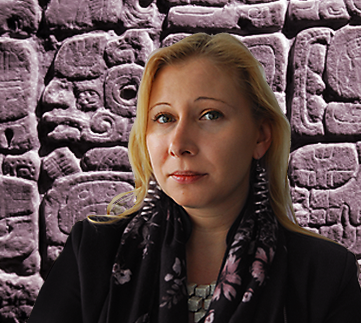 Irina Tomić
teaching assistant
Narrow scientific/artistic field:
Historical sciences
Subjects:
Art History
Art History Studies, Faculty of Philosophy, University of Belgrade, 2009
Master studies, Department of Ethnology and Anthropology, Faculty of Philosophy, Belgrade, 2014
Doctoral studies of art history, Department of Modern Art, Faculty of Philosophy, Belgrade, 2015
Winning of the Pavle Beljanski memorial collection award for 2010
Irina Tomić teachers the subjects Art History Overview and Anthropology at the Academy of Fine Arts and Multimedia. Her research as an art historian concern modern and contemporary art, with a special emphasis on the art in Serbia and Yugoslavia in the 20th century, the influence of Byzantine cultural heritage on the development of modern and contemporary art, art during World War II. In the area of ethnology and anthropology, her research concerns folk traditions and beliefs in the Balkans, gender studies and the anthropology of the body.
Before she started teaching at the Academy of Fine Arts and Multimedia, Irina Tomić used to work at the Little Gallery "Singidunum" (2008). At the National Museum in Belgrade (2014–2016) she volunteered first as a volunteer-apprentice, and then as a custodian, working in the area of museum activity and heritage protection. In 2014 and 2015, she participated in the making of the catalog for the art collection of the "Defense" Media Center of the Ministry of Defense.
Irina Tomić has also been an author of a number of exhibitions. As a part of the Museum Night (2011), in Pavle Beljanski memorial collection in Novi Sad, she hosted an exhibition of paintings by Rada Selaković, entitled Gold. With Olivera Vukotić, she created the exhibition Talent and Sensitivity (Selected works from the collection of MC "Defense"), in the Serbian Military Center's Big Gallery (2016). She is currently working on a doctorate on art during World War Two.
Dva dela Vlaha Bukovca iz umetničke zbirke Medija centra Odbrana (professional paper), National Museum – Belgrade anthology XXII /2, 291–301, 2016
Vizantijsko nasleđe u srpskoj modernoj umetnosti (study) Vizantijsko nasleđe i srpska umetnost III, Serbian Byzanthology Committe, SANU Byzanthology Institute, Belgrade, 149–168, 2016
Srpski ikonopis XX veka, (study) Vizantijsko nasleđe i srpska umetnost III, Serbian Byzanthology Committe, Official Gazette, SANU Byzanthology Institute, Belgrade, 219–227, 2016
The Eye Light Reflection in Fine Art, Arts (Co-author), Literature and Linguistics: Open Access Journal, Arts Lit Linguist, Volume 1, Issue 1, Article Number: ALLOA-1-002, 2016
Konj u srpskim narodnim običajima i verovanjima (scientific paper), master theses collection, Ethnographic Museum Belgrade, Belgrade, 275–326, 2016
Društvo srpskih umetnika Lada: 110 godina (Collaborator on monograph catalog), National Museum, Belgrade, 2014/2015
Brain and art: illustrations of the cerebral convolutions (Co-author), Folia Morphol. Vol. 73, No. 3, pp. XX-XX, Via Medica, 2014
Heart in anatomy history, radiology, anthropology and art, Folia Morphol, (Co-author) Vol. 73, No. 2, pp. 103–112, 2014
Rada Selaković (Monograph), series "Žene u srpskoj umetnosti", TOPY, Belgrade, 2011
Bouvi, Džons, Berns – Glamur i kič u delu Rade Selaković (Studija), Proceedings from the Modern Art Studies Seminar of the Faculty of Philosophy in Belgrade 7, 91–98, 2011
Cochlea and other spiral forms in nature and art (Co-author), American Journal of Otolaryngology, Volume 33, Number 1, 80–87, 2012
Neuroradiology and Art: A Review and Personal Contribution (Co-author), Tohoku Journal of Experimental Medicine, 222, 297–302, 2010