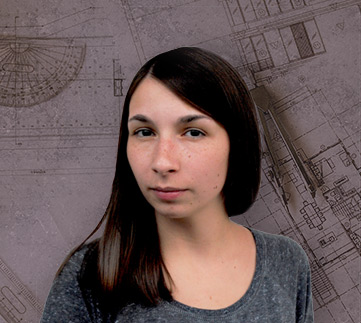 Marija Kojić
lecturer out of employment
Narrow scientific/artistic field:
Interior Architecture
Subjects:
Furniture Design
She graduated in 2015 from the Faculty of Philology and Arts in Kragujevac, majoring in Interior Architecture. She completed her master's studies at the Faculty of Applied Arts in Belgrade in 2018, majoring in Interior and Furniture Design. Since 2021, she has been employed as an assistant at the Faculty of Contemporary Arts.
Young Balkan Designer Award (2019);
The annual selection of five young designers and their projects for traveling exhibitions throughout Europe;
10th Mikser Festival, Belgrade;
BIG SEE Wood Award 2019 – Winner;
BIG SEE Product Design Award 2019 – Winner;
Awards for the project "Zaokret";
MONTH OF DESIGN organized by BIGSEE, Ljubljana;
Recognition "Good Toy" for the project "Andramolje" (2019);
Friends of Children of Serbia – Green ideas – first award for the project "Andramolje" (2019);
Trag Foundation; Erste Bank and the Rockefeller Foundation, Belgrade.