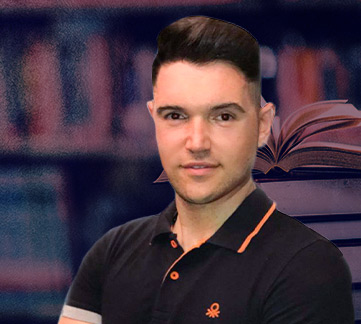 Saša Stepanović
Associate Professor
Narrow scientific/artistic field
Pedagogical Sciences
Subjects
Pedagogy, Didactics, Methodology
He graduated from two faculties, the Faculty of Philosophy in Belgrade, at the department of Pedagogy, and from the Teacher Education Faculty in Belgrade, where his major was general class teaching. He got his PhD at the Faculty of Philosophy in Belgrade in 2016 at the department of Pedagogy.
He worked at the Teacher Education Faculty teaching the subjects of Pedagogical Informatics and Educational Technology. He is currently teaching at the College of Social Work in Belgrade in the Departments of Psychology, Speech Therapy, Occupational Therapy and Social Work.
In the period from 2009 to 2018, he worked continuously, in addition to working at the Faculty, in several elementary schools as a class teacher.
Special fields of interest: pedagogy, didactics with methods, special pedagogy, occupational therapy, teaching, and learning.
He is a member of the editorial board of the Faculty of Education and Rehabilitation within the publishing activity, the Department of Motoric Disorders and Chronic Diseases in Gothenburg, Sweden, with which he collaborates within the part that concerns the adaptation of textbooks for students with disabilities in regular schools. He became a member there at the invitation of Professor Selma Tuševljak, a special pedagogue from Gothenburg University because she found significant parts of his research work in the monograph "Inclusion" that are useful for compiling the above-mentioned textbook.
He was the guest editor of the prominent American international journal "IGI Global book series Advances in Religious and Cultural Studies" in 2020. He was also a reviewer of some scientific papers in the same magazine.
Considering that one of the fields of research interest of Dr Saša Stepanović is didactics and special pedagogy, he also deals with the disciplines of special pedagogy, which include: deaf pedagogy, typhlopedagogy, oligophrenic pedagogy, pedagogy of homeless, psychopathic and neuropathic children, speech therapy pedagogy and medical pedagogy.
He is currently teaching the following study subjects at all three study levels:
Basics of Pedagogy;
Theory of Teaching Organization;
Theoretical Foundations of Inclusion and Integration;
Pedagogical Psychology;
Organization and Programming of free time;
Occupational Therapy for people who need special support;
Psychology Teaching Methodology;
Evaluation of Knowledge and Educational Outcomes.
He is the author of five scientific monographs
Inclusion;
ADHD and ADD – attention deficit disorder from another angle;
Organization of free time;
Occupational therapy in working with children and adults;
The Great Sexual Rebellion.
He is the author of the Practicum of professional practice for psychologists, in the second, third and fourth year of academic studies.