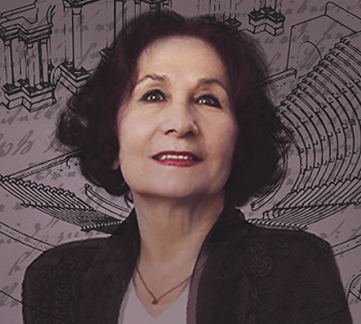 Narrow scientific/artistic field:
Dramatic Art
Subjects:
Acting
Writer, director and diplomat Vida Ognjenović graduated from the Department of General Literature of the Faculty of Philology in Belgrade, and from the Directing department of Belgrade's Academy for Theater, Film and Television. Her postgraduate studies began in Paris at Sorbonne, and she defended her magister's thesis in theory and practice at the University of Minnessotta.
Vida Ognjenović taught as an assistant at the Faculty of Dramatic Arts in Belgrade, and she has taught as a professor at Universities in Los Angeles and Chicago, as well, and lectured at all major US universities as a visiting teacher. She has directed about a hundred theater plays, and a large number of highly successful of her own television and radio dramas.
Prosveta's book of the year prize;
Andrić Prize for short story;
Branko Ćopić Prize for prose;
Laza Kostić Prize for novel;
Paja Marković Adamov Prize for prose;
Romanda Serbika Prize for prose;
Stefan Mitrov Ljubiša Prize for literary work;
Joakim Vujić Statuette award;
Kočić's Quill award for novel "Birdwatcher";
Kočić's Book lifetime achievement award, 2011;
Global Award for Humanism 2012, awarded by Ohrid Academy of Humanism;
Prozart – international acknowledgement for original contribution to Balkan literature at the PRO-ZA Balkan festival in Skopje.
Short story collection "The Poisonous Dandelion Milk" (Prosveta, Belgrade, 1994)
"The Grandfather Clock" (Prosveta, Belgrade, 1996)
"The Most Beautiful Stories by Vida Ognjenović" (Prosveta, Belgrade, 2001)
Novel "A House of Dead Scents" (Prosveta, Belgrade, 1995)
"Melancholy Dramas" (SKZ, Belgrade, 1991)
"Girl with Blue-Black Hair" (Ars dramatika, Belgrade, 1994)
"Sentimental Comedies" (SKZ, Beograd, 1994.)
"Mileva Einstein", and a three-book play collection "Plays I, II and III" (Stubovi kulture, 2000, 2001, 2002)