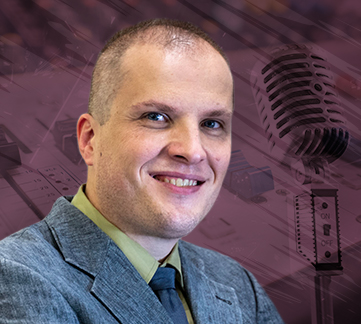 Narrow scientific/artistic field:
Sound
Subjects
Music Recording – solo instruments, Creative Acoustics, Stereophony and Sound Image Creation, Sound Recording, Music Recording – small ensembles, Audiovisual Art Sound Design, Stage Sound Design
In his early childhood, Vladimir Živković showed an interest in music, primarily the guitar, so already in the third grade of elementary school he enrolled in junior music school "Vatroslav Lisinski" – the Department for Classical Guitar.
While he was attending secondary music school "Jovan Bandur" in the Classical Guitar Department, he began to develop an interest in recording and sound design, which led to his decision to enroll at the Faculty of Dramatic Arts (FDA) – Department of Sound Recording and Design. He enrolled at FDA in 2002 and since then has participated in a large number of joint student exercises, that is, numerous student films. Many of them were made in cooperation with leading local production companies. That's how, for example, the short film "Sektor" was made with the production company "Baš Čelik" and the film "Bod" with "Cyber production".
During his studies, he started working as a cameraman and sound designer in the field of feature and documentary films, e.g. "Made in Serbia" (Arhitel), as well as various television programs in which he was engaged as an external collaborator. In the second year of his studies, he received the award for the best student at the Department of Sound Recording and Design in 2004.
In addition to working for film and television, he participated as a cameraman and sound mixer in the very successful theater project "Welcome to Serbia" (Zvezdara Theater) and as a sound designer for the play "Notes from Underground" directed by Ana Đorđević (Yugoslav Drama Theater).
He graduated in 2007 from the Department of Sound Recording and Design with a GPA of 9.5, and that same year, he won the award for the best student of the FDA who graduated that year.
Vladimir Živković was the cinematographer and sound designer on the several award-winning film "The life and death of porno gang" (Baš Čelik) directed by Mladen Đorđević. On that project, he demonstrated the ability to successfully coordinate and lead the production and post-production process of sound for the needs of a feature film. This was followed by engagements in many productions of local feature films as well as several co-productions with Croatia.
He is the winner of the "Neda Depolo" award of Radio Belgrade for the radio drama "Neobična država Viktorija", as well as two awards for sound design at the documentary and short film festival for the films "Without a Trace" by Maša Nešković and "Gagarin and me" by Mihajlo Jevtić.
For the purposes of Ivona Pleskonja's painting exhibitions "Deca sunca" and "11 snaga", he participated as a co-author in the sound design and production of music for the accompanying audio tracks.
In addition to all of the above, Vladimir is actively engaged in music recording and music production. As a music producer, he worked on several albums of various Belgrade alternative music groups. He is active on the local music scene as a guitarist and music producer of the Vocal-instrumental group (VIS) "Lemonade", of which he is a founder and permanent member.