Students of acting in the class of Professor Vida Ognjenović and teaching fellow Jovana Todorović performed their graduate play, Shakespeare – Our Contemporary on the Raša Plaović stage of the National Theater.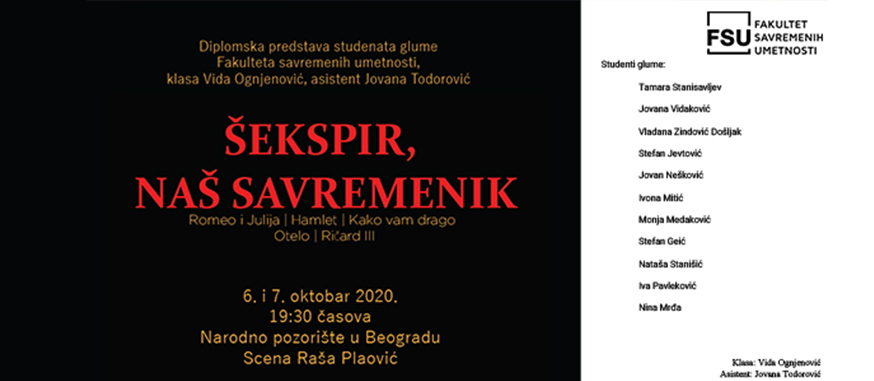 Young and talented actors enchanted everyone by acting scenes from the most famous Shakespeare's plays: Romeo and Juliet, Othello, Hamlet, Richard III and As You Like It.
Stage fright, mutual encouragement and deserved applause
Students passed their final exam with flying colors, and their Professor Vida Ognjenović had only words of praise for her acting class.
– I am responsible for their professional development, and it is my task to relieve them of stage fright, to guide them, and to bring them back to the right course if they lose their way. They must never allow themselves to feel discouraged, to fear new roles, because an actor has to own their profession, they have to be able to play any role and research any topic. I am very happy with their work, of course, success cannot be guaranteed, but hard work is there – said the mentor Vida Ognjenović after the performance.
You can see how they encouraged each other before taking the stage, how they bonded during studies, who is the best Juliet, and how strong was the applause at the end of the play in the video below: