The Faculty of Contemporary Arts Gallery is currently hosting an interesting exhibition entitled "Three Artists – Three Worlds". The exhibition showcases works by three FCA students – fourth-year painting student Jelena Lukić and graduate painting students Vanja Pašić and Mile Šaula.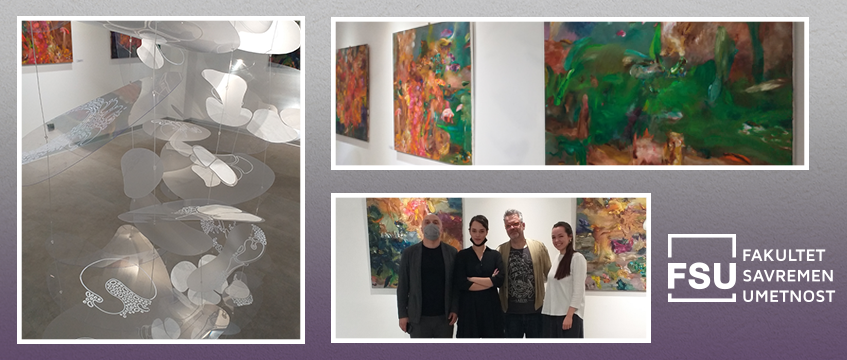 Mile Šaula already has a rich portfolio, while Jelena Lukić and Vanja Pašić are still in the early stages of their careers in art. However, albeit young, each of these ladies inhabits a comprehensive artistic world of their own.
Professor Irina Tomić, Gallery custodian, about the exhibition:
Jelena Lukić has found her artistic world in organic structures. She peeks into microscopic images of the matter we are surrounded by and made of. The microbiological textures and biophilia have led the artist to the unifying concept of BIOPIS. Light is a particularly important segment of her work; transparent materials are used as the base in order to let the light shine through and be an integral facet of all parts of her installations. As she put it herself, "subtle lighting and a combination of drawn-over transparent foils result in the exact brand of sophisticated visuals" she aims for. Installations are the most natural form of her creations, as they allow her works to provide subtle refinement to space.

Vanja Pašić's world is tumultuous and intensive. She is seeking her own self, all the while deepening her acquaintance with the world around her and inside her through the exploration of color and the observer's reactions. The color red is dominant. It is the color of life and death, as well as rage and love. It is the most provocative of all colors, and in the psychological discourse – the most intriguing for the observers and their experience.

Mile Šaula has explored countless segments of images, the self and new reality in his work. For him, abstraction is the new reality, because it stems solely from its own self. On this exploratory journey, Šaula has explored various materials (sand, pigment, earth), sometimes even finding inspiration in Native Americans' shamanic drawings in the soil. The trance of the shamanic rituals seems to have remained an important component of Šaula's works. In these surges of imagination of inspiration, he first found symbols and signs; in the next phase, he left the incorporeality of abstraction behind and entered the world of metaphysical landscapes, where segments of living beings started to emerge. In search of transcendence and contemplative states, he turned towards creating his own world of fantastical wild nature and noeric universe. In this artist's world of creation, the world is dynamic, in perpetual motion, collision and vanishing, always accompanied by unique, intensive coloring.
About the authors:

Jelena Lukić, born in 1997, started her education in arts at the School of Design (2012–2016). She honed her drawing and painting skills at the Center for Education in Visual Arts – Šumatovačka. She studied photography at the Faculty of Applied Arts in Belgrade (2016–2018). Jelena has been a painting student at the Faculty of Contemporary Arts in Belgrade since 2018. She won the "Dubravko Milanović" award for best sculpture in 2015/2016. This is the tenth exhibition that has featured her works.

Vanja Pašić studied applied painting at University of Kragujevac's Faculty of Philology and Arts. She has been studying at the Faculty of Contemporary Arts since 2019, where she is currently pursuing a master's degree in painting. She has received a commendation from the jury at the XIX Biennial of Students' Graphics of Serbia in 2018. Vanja participated in the collective exhibition of drawings by third year students of Kragujevac's Faculty of Philology and Arts held at the Student Cultural Center Gallery in New Belgrade. In 2021 she took part in a collective show entitled "Inspiration Belgrade 2020" at Belgrade's Cultural Center "Grad".

Mile Šaula was born in 1970. He is currently a graduate student of painting at the Faculty of Contemporary Arts in Belgrade. He is a member of ULUS with a notable history of international exhibitions. A painter with a unique style and prominent lyrical phantasy. Since 2002, he has been a regular exhibitor at Paris's "Salon des Réalités Nouvelles" (established in 1939, with the most prestigious pedigree for abstract art in the Western world), where he won the Prix Marin twice (in 2006 and 2011). His delicate paintings are included in a number of private collections in Serbia and abroad.
You are welcome at the FCA Gallery, where you can enjoy a selection of works by these talented artists.