Srđan Radić, a final-year Art student at the Department of Painting at the FCA, achieved great success. His works entered the final round of selection of the competition called "Izlažem prvi put", announced by the House of Jevrem Grujić. Five of his paintings will be part of the museum display and visitors will be able to see them.

Srđan became one of the finalists, despite the high competition, and the visitors will thus be able to see five of his paintings:
Stepenište u Dunavskoj ulici (technique used: oil on canvas; dimensions 60×80);
Tajno Dvorište (technique used: oil on canvas; dimensions 40×50);
Terasa u proleće (technique used: oil on canvas; dimensions 50×60);
Terasa u Gospođincima (technique used: oil on canvas; dimensions 50×70);
Stan jedne Balerine (technique used: oil on canvas; dimensions 70×90).
Art Historian Mile Ignjatović described the oeuvre of the young painter in the following way:
"The painting of Srđan Radić partly belongs to Intimism Art, which is visible in his efforts to study the laws of painting in his interiors and exteriors created using the oil on canvas technique. Srđan Radić is an advocate of matter with a poetic atmosphere, with an effort to get an emotional quality from every color applied to the canvas. This young artist is a devotee of color as an artistic interpretation of the real world in the way he sees and experiences it. His artistic attitude is conceptually based on the concept of the classical painting register."
Fourth year of Painting Studies at FCA in the class of Đorđe Stanojević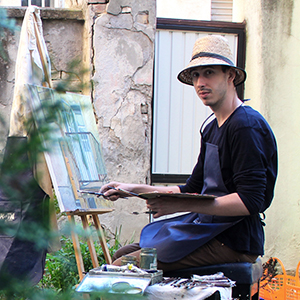 Srđan Radić was born on September 5, 1990, in Novi Sad. He graduated from the "Jovan Vukanović" Secondary Technical School in Novi Sad in 2009, majoring as a Graphic Design Technician – General Course. Miroslava Raković, a professor of graphic design, a fine artist, and a graphic artist had a positive influence on his further interest and commitment to art. He has a long-standing collaboration with the fine artist and lecturer Marta Kiš Buterer, who also helped him in his preparation for enrolling at the academy. He completed his 3-year Bachelor's studies in Classical Painting at the "Educons" University in Sremska Kamenica in 2020, in the class of Professor Vasa Dolovački. He started his fourth year of studying Painting in 2021 at the Faculty of Contemporary Arts in the class of Professor Đorđe Stanojević.
"Painting is my life calling and all I want to do is paint. My painting is intimate and I want to explore myself and the world I live in and present it the way I see and experience it. My sensibility in painting leans towards the concept of classical painting in which I see my further work and development. I am a devotee of color and research into its visual and emotional quality as an artistic interpretation of the real world."