Recent days have been days of empowering recognition for the Faculty of Contemporary Arts' Dramatic Arts – Acting department, as more and more of our students have been landing roles in series and films and setting off firmly on the course of becoming household names of Serbia's acting universe.
Two roles in RTS's popular series "My Generation Z" have been entrusted to FCA students – Katarina Živković and Nenad Petrović. They excel in the roles of rich girl Andrijana and restless high school student Bojan.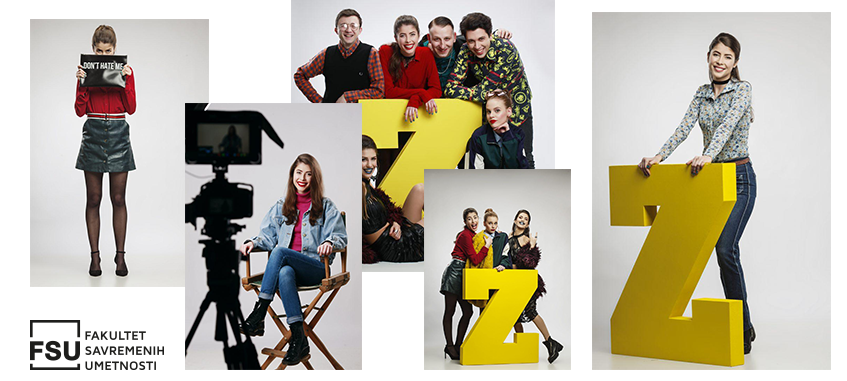 "A CHANCE TO ACT DURING STUDIES HAS MEANT A LOT"
Katarina, who is approaching the conclusion of her studies of acting at FCA, has been invited to an audition, just like all the other students of acting at the Faculty of Contemporary Arts.
"After the audition, I felt great, but I did not celebrate because this kind of feeling tends to trick you sometimes. I later learned that my classmate Nenad Petrović and I had landed roles that are among the most prominent in the show. I was overjoyed. I am very grateful for the opportunity to be active in my profession while I am still a student. However, it is, in a way, a mixed blessing – I cannot dedicate as much time as I'd like to my studies. On the other hand, I think that it's important to start working as soon as you can, because, although school is the foundation, the actors acquire life's own lessons and a wealth of experience on set and on stage, which is equally important," said Katarina in an interview for "Original Film".
"THIS HAS BEEN A WONDERFUL EXPERIENCE"
Nenad Petrović was quite happy to receive the invitation to play this part.
"I saw the casting call at the faculty; I did not expect much, but I went to the audition and I was quite surprised when they called from "Original Film" to tell me that I got a part in the series and that I will play Bojan. The show uses humor, as well as a realistic approach, to show the circumstances in which a new generation is growing up, and how this generation responds to life's obstacles and the dilemmas in which these young people find themselves.

Bojan, the character I am playing, in inseparable from Srđan; they are best friends and they are that team in high school that always gets into – and generates – trouble in order to prove themselves to their peers.
I am thankful to the entire crew for the wonderful experience and to my colleagues, from whom I have learned a lot," said Nenad, a last year student of acting.
Series "My Generation Z" follows the young generation born between 1995 and 2005, their way of life, their rules and the way they view the world and different problems in this era. Also playing in the series is Slobodan Beštić, acting professor at FCA, who provided considerable on-set support to his students.
The series is airing at RTS since March 4, Monday to Thursday from 10 PM.