DAYS OF CONTEMPORARY ARTS START ON MAY 28 AT DORĆOL PLATZ, WITH BIG PARTY, FILM PREMIERE AND EXHIBITION. APPLY AND RESERVE YOUR FREE TICKET!
This summer will see another installment of Faculty of Contemporary Arts' traditional series of events: this year's Days of Contemporary Arts start on May 28 in Dorćol Platz with a big party, premiere of the student film "Metronomic Mind" and an exhibition of all works submitted for the Great High School Creatives' Competition.
You are also in for a number of other exciting events – theater plays at the National Theater and the Yugoslav Drama Theater and an exhibition by the students of visual arts and design.
And the best of all is that you can visit all these events completely free of charge. All you need to do is apply and secure your place at the most interesting cultural event of the summer!
To secure a free ticket for all events at the Days of Contemporary Arts, apply here.
BIG PARTY, FILM PREMIERE, EXHIBITION AND A LOT OF FUN ON TUESDAY, MAY 28 IN DORĆOL PLATZ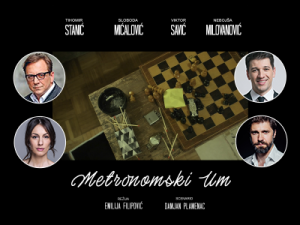 Come to Dorćol Platz, you are in for a good time and eventful artistic offer. Things will start happening at 6 PM, with award ceremony for the winners of the Great High School Creatives competition, which will be followed by the premiere of the movie "Metronomic Mind" by second year students of production from FCA, starring Tihomir Stanić, Sloboda Mićalović, Viktor Savić and Nebojša Milovanović.
After the screening, it will be music time, with a live performance by Savremena Gimnazija students' band Gimnazijalci and a DJ set by DJ Srđan.
Apply and secure your free ticket on time.
FCA STUDENTS TO PERFORM АТ NATIONAL THEATER AND YUGOSLAV DRAMA THEATER STAGES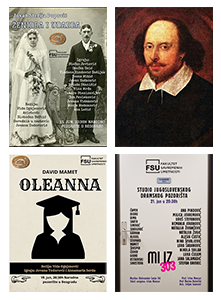 This June, you can see FCA's students of acting in the plays they will perform on the stages of National Theater and Yugoslav Drama Theater. The shows will run from June 15 to June 21; you can learn more about the performances you can see for free at the Days of Contemporary Arts here.
Come and witness the great talent of the actors from FCA.
BIG EXHIBITION OF WORKS BY FCA'S PAINTING AND DESIGN STUDENTS
Faculty of Contemporary Arts will open its doors to general public on June 14 at 7 PM, with the opening of the painting and design students' annual exhibition. The opening will be followed by an exquisite DJ set.
Anyone interested in seeing the works of FCA students will be able to visit this exhibition all summer at the FCA (Svetozara Miletića 12), from 9 AM to 5 PM, every workday.
Apply and reserve a free ticket for interesting high culture events at the Days of Contemporary Arts.