For students to continue developing their musical talent
Faculty of Contemporary Arts (FCA) proudly acts on the idea that students should develop and nurture their talents, both during their studies and throughout their whole lives. Precisely because of our desire to help them develop and perfect their musical talent, we have provided them with a state-of-the-art multimedia studio, one among the best studios owned by an educational institution in this country. Namely, all FCA students can perfect their musical talents and knowledge in this modern multimedia studio, using top-quality musical instruments and devices, and also to get acquainted with music production having the best equipment at their disposal.
Multimedia studio is located in the heart of the city, in the school facilities in Beograđanka, and consists of a live room and a control room. A perfect soundproofing gives the artists the freedom to sing, play and compose whenever they want, enjoying their talent without distracting others.
A great atmosphere that creates magic
The studio has been thus designed so as to encourage students to express their musical talents, improve their knowledge and develop new skills. In coordination with their teachers, they can create and explore their gifts and talents, with laughter and good times guaranteed, since music always makes a great atmosphere.
Best instruments for best music
The soundproof live room takes up a large part of the multimedia studio. This is the room in which the process of artistic creation begins. The live room can hold even 20 people, it is padded with pyramidal tiles and isolated with mineral wool and drywalls, which produces excellent conditions for creating top-quality sound.
The live room is the place in which performers (instrumentalists and vocalists) spend the most time, and where all the instruments are located, including Yamaha keyboard, acoustic drums, electric guitars and Marshal guitar amplifier, the entire sound system along with instrumental and condenser microphones, and the unavoidable part of every prestigious sound recording studio in the world – the Neumann U87ai microphone.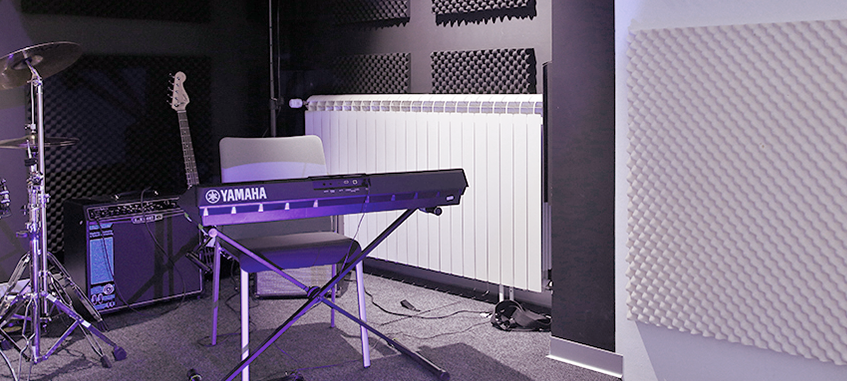 Control room – a place where sound takes on a new meaning
In addition to the live room, this studio also includes a futuristic multimedia space – the control room. This is the place where recorded vocals and instrumentals are mixed (volume and effects tuned), after which comes mastering, which gives color to a song, and makes the tone fuller and better.
In this room, students can become familiar with analogous devices used in music production, while everything is edited and reformed on a Tascam DM-4800 mixing board. On this most popular mixing board in the world of music, students can create new mix of signals using UAD LA-2A and UAD 1176LN compressors that produce music without even the slightest noise.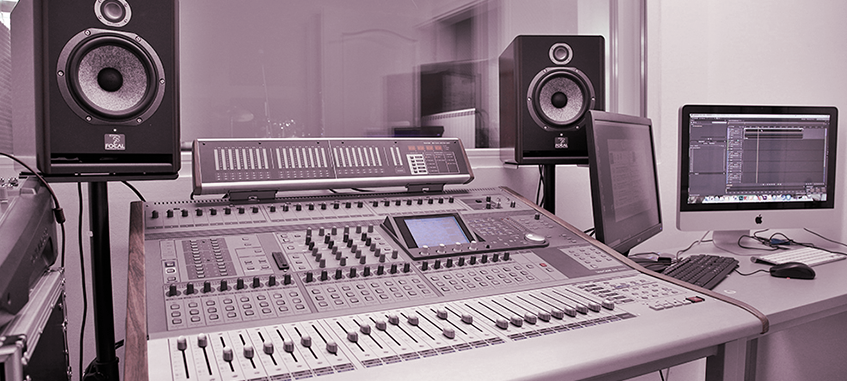 Every fan of good sound is welcome
In the studio, audience is always welcome and everyone can find their spot and relax while listening to musical creations of talented students. In front of the stage, one can fully experience the magic that happens as a result of young artists' talent and the state-of-the-art music equipment.